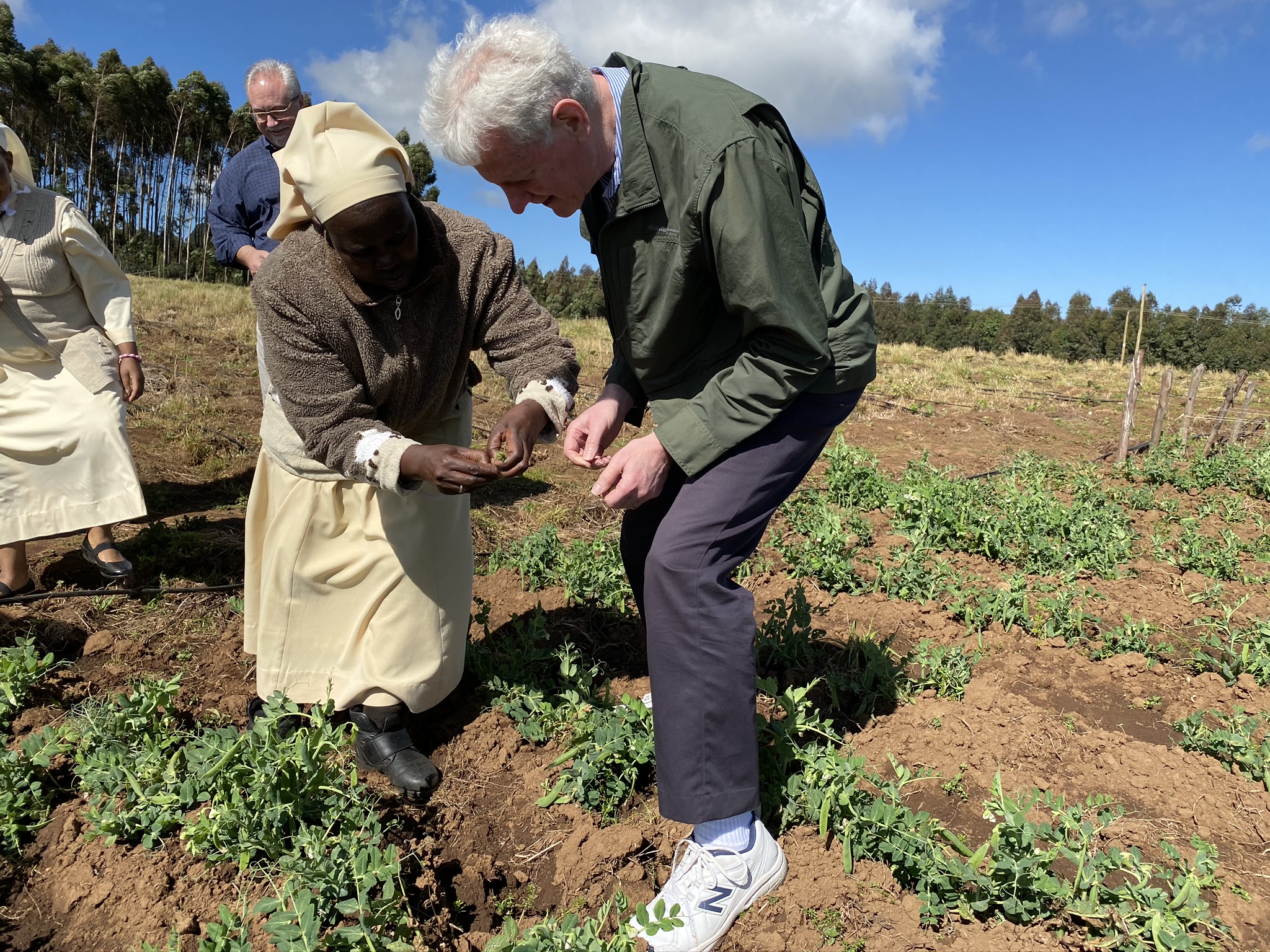 CLEVELAND (CNS) — A $20 million loan from the U.S. international development bank will allow a program started by the Pontifical Mission Societies in the United States to expand social-impact investing in enterprises operated by the Catholic Church in Africa.
The loan from the International Development Finance Corporation to the Missio Invest Social Impact Fund will be used over four years to support agricultural, health, education and financial inclusion institutions with church ties in the sub-Saharan region.
Known as MISIF, the fund will funnel money to small and medium enterprises that have no access to investments from traditional sources, Oblate Father Andrew Small, national director of the Pontifical Missions Societies, told Catholic News Service.
"No one is doing this level of funding. It's too risky," Father Small said.
The fund's loans — ranging from $50,000 to $1 million — are financing church-led initiatives that large-scale investors routinely bypass, he said. Other benefits for recipients include low interest rates and no requirement for collateral.
MISIF also provides ongoing training and technical assistance throughout the life of the loan and beyond.
The people benefiting from the loans will be "agents of change" in the developing world as their income is stabilized, leading to reduced poverty, the priest said.
Through 2020, MISIF's loans totaled nearly $4.5 million. Father Small said 98% of the portfolio is current on repayments and four loans have been completely paid off.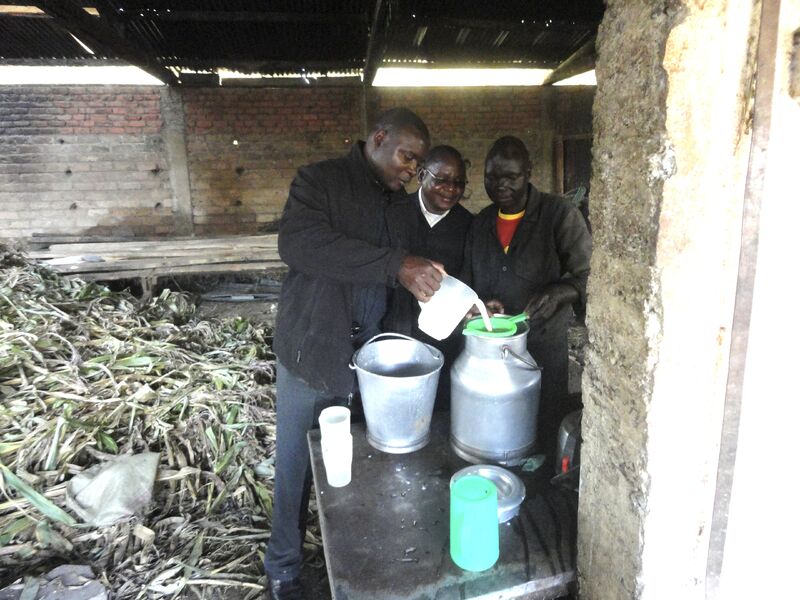 Loans have been made to 38 agribusinesses, two microfinance institutions and one school spread across six countries: Kenya, Malawi, Nigeria, Tanzania, Uganda and Zambia. Borrowers have included congregations of women and men religious and priests, dioceses, seminaries, financial institutions and parishes.
"We started with agriculture because it has the biggest payoff in terms of reduced poverty," Father Small said, adding that a wider array of health care, education and financial institutions will be sought as the loan program expands.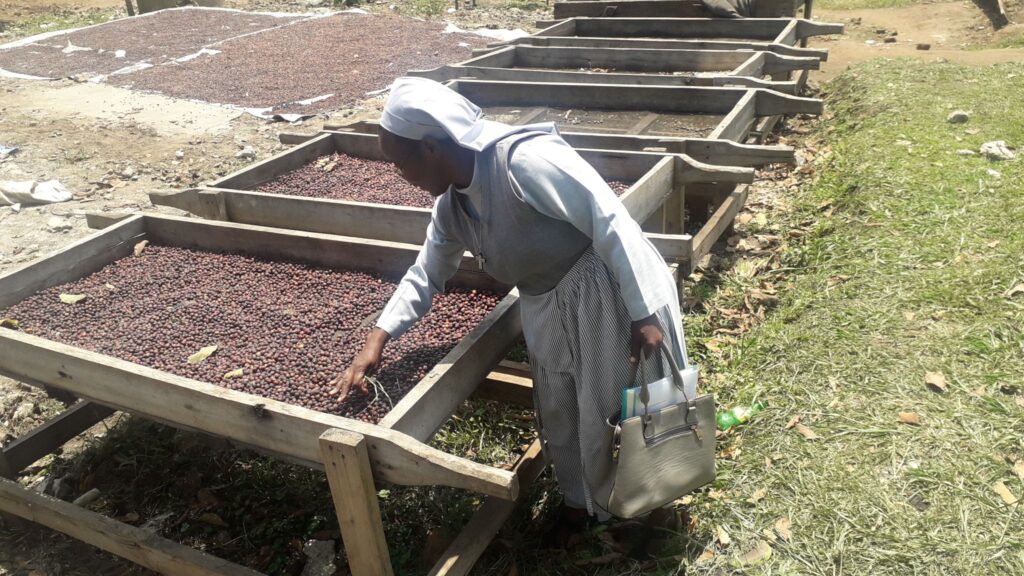 A school expansion in northern Tanzania for Masai children, a coffee farm in Kenya and a church-based financial institution in Nigeria have been among the early participants in the loan program.
Overall, the enterprises receiving loans have provided 2,000 jobs and $3 million in income to local economies and trained 4,500 farmers in sustainable practices in farm management, according to Missio Invest.
Father Small said the $20 million U.S. loan will allow MISIF to reach hundreds of other church-based enterprises in up to a dozen more countries. The loan must be paid back, with interest, usually within six years.
MISIF was created in 2019 by Missio Invest, which the Pontifical Mission Societies formed in 2014 to work with church-owned enterprises.
The philosophy behind forming the loan program is based on connecting investors with communities that are carrying out the missionary work of the church as envisioned by Pope Francis, Father Small said.
The priest originally set out to establish such a fund through which investors would provide "real money" to grassroots enterprises working in local communities rather than depending on donors who contribute from their pool of earnings obtained through traditional high rate-of-return investment tools.
Such social-impact investing will foster what Father Small described as more sustainable development and lead to more long-lasting relationships that the pope has encouraged the church to initiate and maintain.
"Unless we build meaningful relationships based not on vague notions of concern and donations but of concrete and identifiable forms of mutual concern, then we will continue to stifle the agency of the poor," he said.
He compared the thinking behind MISIF to Jesus' parable of the widow's mite in which the elderly woman's small donation is described as greater than any donation from the rich person who contributes from their excess holdings.
"It's about giving until it really matters to you, until it makes a difference to your own well-being," he explained. "The widow is expressing that she feels dependent on God and others for her future well-being. Unless we do that with the massive investment portfolios that we have amassed, it's hard to see how we create the type of interdependence and unity God offers for our happiness."
Church-based investors in MISIF include the Sisters of St. Louis; the U.S. Midwest province of the Society of Jesus; the Missionary Oblates of Mary Immaculate; the archdioceses of Milwaukee and Miami; the Royal English College of St. Alban in Spain; the Vatican Congregation for the Evangelization of Peoples; and the Pontifical Missionary Societies of the U.S.
Father Small said he sees the program expanding to South Asia by 2025 as new investors join MISIF. Projections call for loans to approach $80 million by 2030.
"We've got to ask how we can reconceive our interdependence in a way that we lay claim to a legitimate future together because we need each other in the future as we do today. I think the pandemic has shown us that," the priest said.
"If we can share our bank balance as well as profits, we're going to get closer to an interdependent world."
Copyright © 2021 Catholic News Service www.CatholicNews.com Used with permission of CNS.
This article appeared in The Independent, a news magazine published in Kampala, Uganda.
New York, US | THE INDEPENDENT | Missio Invest, an impact investor that provides loans and technical assistance to social enterprises operated by the Catholic Church in Africa, has secured a $20 million loan facility from the U.S. International Development Finance Corporation (DFC).
Missio Invest, through Missio Invest Social Impact Fund (MISIF), has developed a unique model to drive change via the Church's vast network of already  existing social service organizations, the land attached to those organizations, and the people who run them in Sub-Saharan Africa.
Missio Invest President and CEO Father Andrew Small, OMI talks with Bloomberg TV's Jason Kelly on Bloomberg Quicktake about Missio Invest's $20M loan facility from the U.S. International Development Finance Corporation.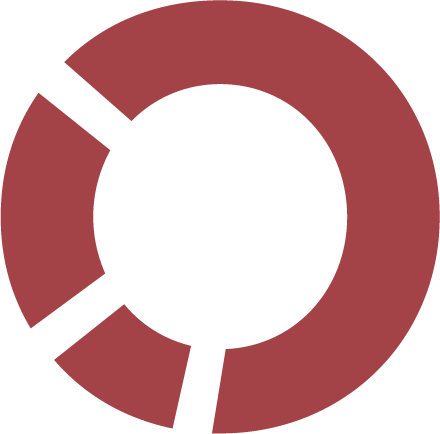 NEW YORK – MARCH 22, 2021 – Missio Corp. (dba Missio Invest), an investment fund manager for impact investments in social service institutions operated by the Catholic Church, announced today that Reverend Andrew Small, OMI has been appointed as its President in addition to his current role as Chief Executive Officer.
Fr. Small founded Missio Corp. in 2014 as the Church's own social impact fund designed to implement an innovative blended financing approach to financing social service efforts operated by the Catholic Church in Africa.
"Fr. Small is someone I've known well and worked closely with for the past 10 years," said Chairman of the Board of Missio Corp., Reverend Monsignor Robert J. Fuhrman. "Anyone who has witnessed how he has managed to grow this new form of financial support for many thousands of our brothers and sisters in need can attest to why many have placed their trust in his ongoing leadership. The investment by the United States International Development Finance Corporation of $20M in addition to other private investors demonstrates a confirmation of this new form of blended financing that will support the life-saving and life-giving work of the Church throughout Africa and beyond. Fr. Small is the right person to take Missio Invest to the next level," said Msgr. Fuhrman.
Fr. Small has served for 10 years as the National Director of the Pontifical Mission Societies. Appointed to that position by the Vatican, Fr. Small directs the network of mission offices across the United States in their work to support the Church's efforts at human and spiritual promotion in more than 1,110 dioceses around the world. Central to his tenure has been an updating of the Church's mission presence in the digital sphere. He led the creation of the first Catholic-only peer-to-peer crowdfunding platform for mission support (www.missio.org) as well as a state-of-the-art online curriculum in mission theology. Aimed at reaching people in their daily lives, he conceived and oversaw the creation of the Missio USA "MassBot" allowing users to request the offering of a Mass for their intentions and receiving curated messages from the missionary priest offering the Mass.
After serving as the U.S. Bishops' policy advisor for international economic development from 2004 to 2009, Fr. Small coordinated Church recovery efforts following the earthquake in Haiti in 2010. He taught international trade law as an adjunct professor at Georgetown University Law Center from 2006-2009. He holds law degrees from Sheffield University, England (LL.B.) and Georgetown University Law Center, USA (LL.M.) and earned his doctorate in systematic theology (S.Th.D.) from the Catholic University of America. He is a member of the Council on Foreign Relations.
"I feel blessed and honored by this appointment. It is further confirmation of the good work being carried out by Missio Invest and all its collaborators across the globe," said Fr. Small. "With more than $4.5 million already invested, Missio Invest plans to deploy a total of $40 million across the Church's extensive infrastructure of agriculture, healthcare and education by 2025. This is an exciting challenge, but one built on solid foundations," he noted. "Pope Francis has warned us against turning the Church into a museum, but to have the audacity to bring life to old structures using the new means available to us. Missio Invest is part of what's next."
###
About Missio Invest
Missio is an investment management group incubated inside the Pontifical Mission Societies in the United States (TPMS-US) until being separately incorporated in 2018; it maintains a strategic relationship agreement with TPMS-US. Currently, Missio Invest has provided 40 loans totaling $4.5 million to agriculture businesses, schools and microfinance institutions owned and operated by the Catholic Church in Kenya, Malawi, Nigeria, Tanzania, Uganda, and Zambia. Missio Invest expects to lend to at least 200 enterprises, mostly agricultural, over the next five years, for a total loan portfolio of some $40 million.
Loan Facility to Support Initiatives Addressing Food Security, Financial Inclusion, and Health and Education Outreach in Sub-Saharan Africa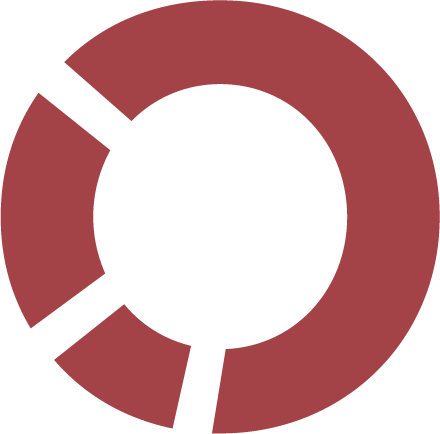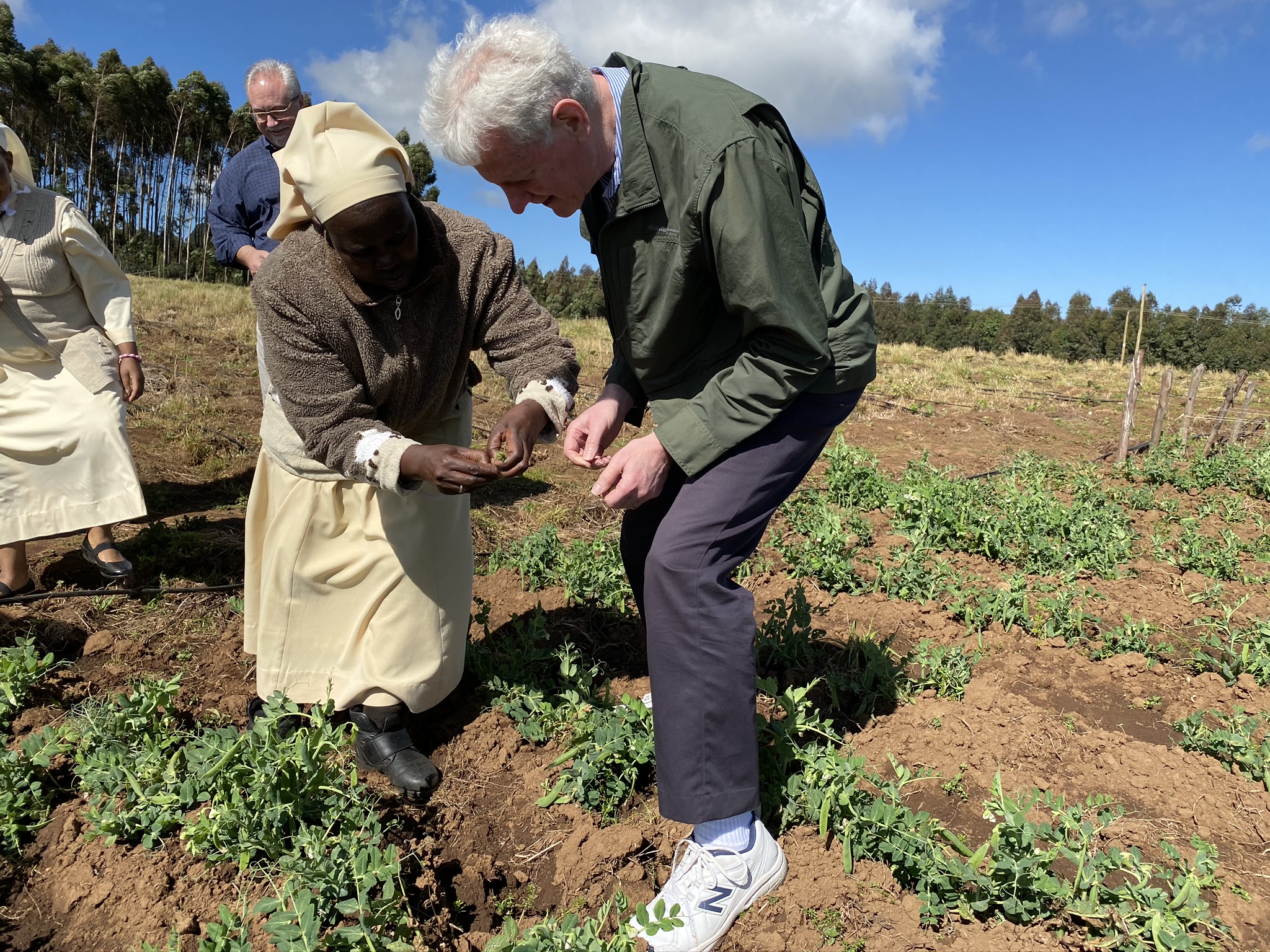 Founded in 2014, Missio Invest works through an extensive network of Church-owned agribusiness, healthcare and education enterprises to drive change and positive outcomes in the communities they serve. Through MISIF, Missio Invest provides training, technical assistance and investment capital to improve food security, support local jobs, and increase climate resilience. The Fund's investments also enable investees to generate stable recurring income, which sustains and expands their schools, hospitals, and other social institutions, serving communities' needs, caring for the most vulnerable and strengthening existing social service operations. MISIF also provides Church-affiliated local financial institutions with investment and advisory to increase offerings to underserved groups. These investments help beneficiaries to provide affordable financing and banking services to women, youth and rural communities, among others, while also ensuring the local entities' long-term financial sustainability.
Leveraging the Church's presence in Africa of 74,000 Sisters and nearly 50,000 priests and brothers that oversee a vast pastoral network of schools and clinics, Missio Invest has grown significantly since its inception six years ago. Its portfolio now supports 588,200 students educated in 668 schools and nearly two million people served in over 950 social outreach facilities. Missio Invest has made 40 loans totaling $4.5 million to 38 agribusinesses, one microfinance institution, and one school across six countries, Kenya, Malawi, Nigeria, Tanzania, Uganda, and Zambia, and is actively expanding to other countries in West Africa (Ghana) and East Africa (Rwanda, Ethiopia). An impact-first fund that evaluates success by measuring its investments' effect on jobs, food security, resilience, and access to basic services, Missio Invest has supported 2,000 local jobs, trained over 4,300 farmers, generated over $3 million per year for local economies through wages and payments to local suppliers, and brought more than 9,800 acres of land under sustainable management.
The DFC investment joins a pool of blended capital from catalytic investors that will enable investment in agribusiness, as well as microfinance, education, and healthcare institutions. Missio Invest expects to lend $40 million to at least 240 enterprises over the next five years.
"Missio Invest is reaching the underserved and often overlooked communities of entrepreneurs in Africa, some 40% of whom are women, who we believe are real agents of change generating economic growth for the common good on the continent," said Missio Invest CEO, Father Andrew Small, OMI. "Unlike grants, MISIF's loans act as catalytic investments, helping investees to create recurring local income to sustain and expand their social service programs. We believe that the Development Finance Corporation's anchor investment is a testament to the strength of our impact investing model, and we are pleased to have a strong partner to advance our shared goal of creating decent work, reliable income and care of our common home. We are encouraged by the social impact we've seen and would encourage all those who have declared a commitment to impact investing to translate those commitments into areas where they can have some of the greatest impact."
About Missio Invest 
Missio Invest has developed a unique model to drive change via the Church's vast network of existing social service organizations, the land attached to those organizations, and the people who run them. Founded in 2014 by the Pontifical Mission Societies in the United States (TPMS-USA), Missio Invest is a new vehicle to strengthen the network of crucial services in Sub-Saharan Africa, where Church-run schools and health facilities are attached to an abundance of farmable land, much of it underutilized due to lack of funds and commercial experience. Missio Invest provides financing for not only agribusinesses, but also health and education enterprises as well as Church-run financial institutions that administer loans and banking products in underserved communities. For more information, please visit www.missioinvest.org. 
MEDIA CONTACT:  
Kelly Sullivan / Kate Thompson / Tanner Kaufman 
Joele Frank, Wilkinson Brimmer Katcher 
212-355-4449